Look forward to cozy, enjoyable rounds with our most beautiful recipe ideas!
Autumn dishes – classics and new discoveries
Invite dear guests, because our autumn dishes with a gourmet guarantee come with everything that the golden season has to offer in terms of delicacies. A hearty cake goes well with wine or beer and autumn dishes with mushrooms are just as popular as with pumpkin or chestnuts. Onion pie and pumpkin soup are true classics among the autumn dishes, which we definitely don't want to miss and which we look forward to well in advance. We also like to taste stews or roulades. But new ideas for cozy days in autumn are also very popular with us: We serve pasta with pumpkin, roastPut the gnocchi and Brussels sprouts together in a pan or top the tarte flambée with pear and Gorgonzola, in the spirit of autumn.
Autumn dishes – vegetarian variety
Would you prefer to conjure up meatless dishes in autumn? No problem, because the autumn season shines with all kinds of colorful vegetables that you can combine to create an aromatic and simple autumn dish. In addition to pumpkin and Brussels sprouts, parsnips, beetroot or savoy cabbage are also suitable for the creative autumn kitchen – whether as a creamy soup, crispy salad, or oven dish. Let yourself be enchanted by the autumnal recipes in our gallery.
Potato soup for the whole group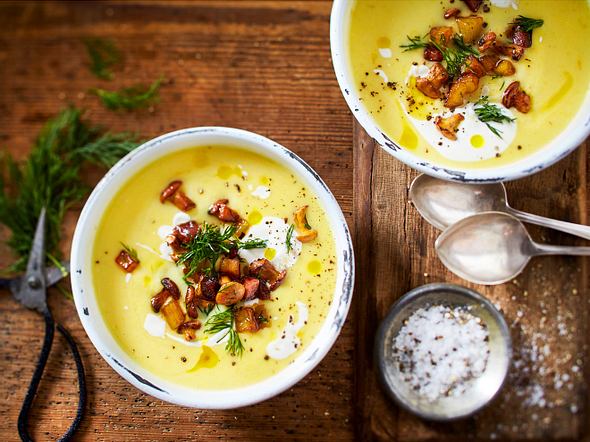 Together instead of alone: ​​If you experience something together, you can later spoon out this phenomenal potato soup with a spicy mushroom topping in good company.
Ingredients:
people
1 onion
1 clove of garlic
500 g floury potatoes
1 yellow pepper
4 tbsp butter
2 tsp Vegetable broth (instant)
200 g Chanterelles
150 g Kabanossi
1/2 bunch dill
150 g Fresh goat cheese thaler
Salt pepper
2 tbsp Fruit vinegar
3 tbsp milk
Method:
Peel onion and garlic and chop finely. Peel, wash, and cut the potatoes into cubes. Wash, clean, and chop peppers.
Heat 2 tbsp butter in a large saucepan. Sauté the onion, garlic, potatoes, except for about 4 tablespoons, and paprika in them for about 3 minutes. Pour in 1 1⁄4 l of water, bring to the boil and stir in the stock. Approx. Simmer for 20 minutes.
In the meantime, clean the mushrooms and wash them briefly. Finely dice the Kabanossi. Wash the dill, shake dry and roughly chop the flags.
4th
If necessary, finely dice the rest of the potatoes. Heat 2 tbsp butter in a pan. Fry the potatoes in it for about 8 minutes. Add the sausage and mushrooms, continue frying for approx. 5 minutes.
Puree the soup and about 3⁄4 of the cream cheese. Season to taste with salt, pepper, and vinegar. Mix the rest of the cream cheese and milk until smooth. Arrange the soup in bowls. Spread the cheese sauce, mushroom pan, and dill on the soup.
Chanterelle starter with ham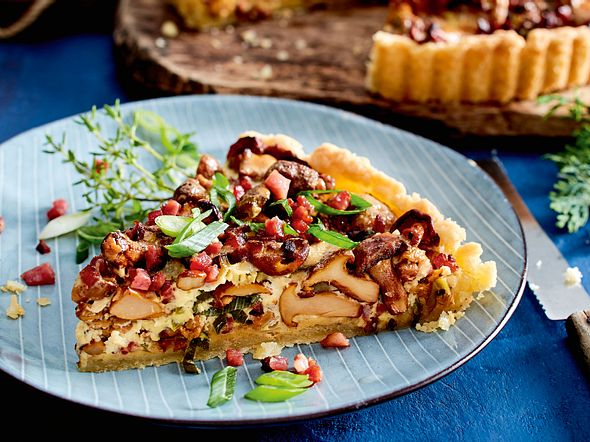 The base is extra crispy thanks to the ice-cold grated butter in the batter – on top: fried mushrooms and a juicy sour cream sauce
Ingredients:
150 g Flour
salt and pepper
110 g ice-cold butter
200 g Sour cream
1 tbsp Lemon juice
Flour
fat
600 g Chanterelles
3-4 Spring onions
2 tbsp oil
150 g Ham cubes
3 Eggs (size M)
2 tbsp Breadcrumbs
Method:
For the dough, put flour and a pinch of salt in a mixing bowl. Rub butter directly into the flour on a coarse grater. Mix briefly with a wooden spoon. Mix 50 g sour cream, lemon juice, and 4 tablespoons ice-cold water until smooth, add to the flour mixture. Knead first with a spoon and then briefly with your hands until all the ingredients are connected.
Roll out the dough round (approx. 30 cm Ø) on a little flour. Place in a greased, flour-dusted tart pan with a lifting base (26 cm Ø). Press the dough on the edge and prick the bottom several times with a fork. Approx. Chill for 1 hour.
Wash and clean mushrooms if necessary. Clean and wash the spring onions and cut into fine rings.
Heat oil in a large pan. Fry the ham cubes until crispy. Remove. Fry the mushrooms vigorously in the frying fat until all the liquid has evaporated. Fry the spring onions briefly. Season with salt and pepper. Add the ham cubes again.
For the topping, mix the eggs and 150 g sour cream. Season with pepper and a little salt.
Sprinkle the dough base with breadcrumbs. Spread the mushroom mixture on top and pour over the egg coating. Bake the tart in the preheated oven (electric stove: 200 ° C / convection: 180 ° C / gas: see manufacturer) for about 40 minutes.